The subtleties of the process of decorating the walls with wood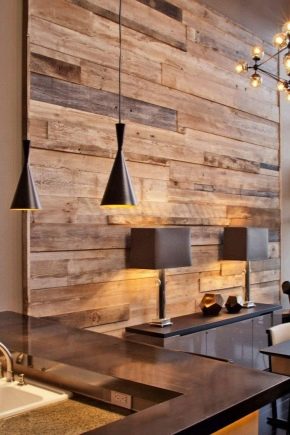 Special features
Application options
Kitchen
Light shades can be combined with a painted board in non-acidic green, yellow and red, because all the colors associated with food are suitable.
Living room
Bedroom
However, completely dark rocks should not be completely repainted or partially dissected with light colors.
Children's
Contrast combination of colors will also be interesting to the child.Do not do the interior in dark classic colors or modern high-tech style, it is better to stay on the Provence, Scandinavian or ecostyle.
Bathroom
Style
Clapboard
Board
Laminate
Laminate flooring is suitable for repairs in a modern, eclectic style.
Oriented strand board
The main problem is the content of synthetic substances that serve as a bonding agent for chips, they can provoke allergies. OSB is used in experimental variations of the Scandinavian and modern finishes.
Floorboard
Aged boards
Butts and cuts
This finish is used in the Scandinavian and eco-style, as well as country and chalets, but it can harmoniously fit into almost any style with a certain arrangement of elements.
Wall panels
Designer Tips
Beautiful examples in the interior