Desk for the office: how to choose the perfect option?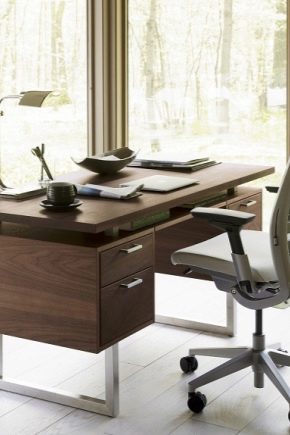 Purpose
Special features
Materials
The table can be entirely from a natural array or with a table top made of valuable wood species veneer.
The latter are more often intended for schoolchildren and take into account the characteristics of children's and teenage use of furniture.
When buying, pay attention to the strength of the glass.Tempered glass is 15 times stronger than usual. The presence of anti-shock film will not allow glass to break apart when broken.
Constructions and design
By standards, the height of the table is 75 cm. A discrepancy of 2-3 cm is considered an acceptable norm.
Color solutions
Classic style prefers woody texture.
Placement rules
Beautiful examples in the interior