Features of a choice of a folding table curbstone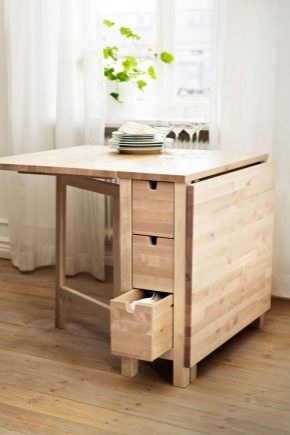 Special features
Models in the interior
Living room
Kitchen
Work zone
The best option would be a single or dvukhtumbovy table with a superstructure of the shelves.
Roomy cabinet will be the place of storage of those things that are needed when working.
Cottage, veranda
To give it is better to choose furniture made of plastic or MDF, completely covered with durable acrylic film. Such products are easy to clean, they are not afraid of humidity and temperature changes. And for the winter they can easily be brought into the house for storage.
Children's
Children's zone with a single acquisition can be turned into a single style space.
Forms
Non-standard forms of thumbs in the form of a trapezoid, cube, triangle can decorate the interior in a modern or futuristic style. However, it is necessary to check whether such a table will be functional in unfolded form, whether the width and surface length are sufficient. Otherwise it may turn out that the thing is beautiful, but useless, and you overpaid for the function "table".
Materials
The luxurious appearance of these products will be an excellent addition to the respectable decoration of the living room.
Tips for choosing