How to choose the right covers for Ikea chairs?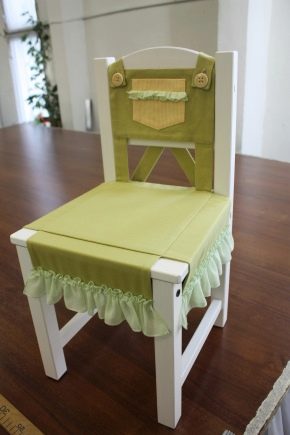 Often, people think about how you can quickly update the interior in a particular room, without making repairs and not changing the old bored furniture. And there is a way out. You can improve living conditions with the help of textile chair covers.
Modern manufacturers of textile products offer a wide range of linings for upholstered, cabinet furniture, and among the leaders can be identified Swiss brand Ikea.
Thanks to the products of the brand, you can easily create a sophisticated and charming atmosphere in the house, but only if you know how to choose the right Ikea chair covers.
Features and benefits
Covers for chairs solve more than one task, they perform an aesthetic and protective function. Can serve as a product for daily use, seasonal or produced for special occasions. It is very convenient to have such a thing at hand.
For several decades nothing was heard about these products, but today these furniture products have become again fashionable and popular. They are often used as a cape in children's rooms, in dining rooms and living rooms.
If a new furniture has appeared in the house, the covers will reliably protect it from various contaminants, the claws of pets, and if the chairs have lost their attractive appearance, they will easily hide all the flaws.
Criterias of choice
Covers for chairs are relevant in any interior, whether it be a kitchen, bedroom, hall, restaurant, conference room in the office, space in a city apartment or a country house.
TM Ikea - a leading manufacturer of household goods, provides consumers with a large selection of cloaks for furniture. Products have the form of tablets (designed only for sitting), and removable models that are partially (only the seat and legs) or completely hide the chair.
The first type of covers resembles a pillow. With the help of gum, they are securely fastened around the perimeter of the chair seat. These products are presented in models:
"Berrier". Soft lining, made of 100% polyester have different colors: crimson, beige, orange, white, brown. Easy to put on the chair, do not move during operation.Of the shortcomings - you can not wash, pollution can be removed only in dry cleaning.
Lerhamn. Production material: viscose - 50%, lion - 30%, polyester - 20%. Have a square shape. Presented in these colors: beige, red-gray and white cell. Cleaning in the washing machine at a temperature of 40C is allowed.
The second type is half-grown. This line includes capes suitable for chairs with armrests:
Niels. Matter contains 92% cotton and 8% polyester. It is made in gray, beige color, sometimes in a multi-colored strip. Dignity: tight fitting of the chair frame with armrests, even suitable for light chairs. Does not need special care, is erased in a typewriter at a low temperature.
Esbern. It resembles a small blanket, if necessary, the cover can be used in this quality, because it has a polyester wool filler. The picture "diamonds" is stitched with a red line, the product is presented in cream color. The main matter is lion - 53% and viscose - 47%. Conveniently located on plastic chairs, non-slip thanks to anti-slip silicone points. It is unpretentious in leaving, it is possible to clean in the machine the automatic machine.
Hendrixal. Products that will bring a touch of nobility and grace in the decor of the room. They are distinguished by clear forms and a variety of floral design. They seize the back and seat of the chair, only the legs are visible. Made from 100% cotton.
Also in the range of the brand you can see:
Free covers. They throw themselves on the chair, creating a skirt effect around the legs.
Models are tight. Fit furniture without leaving gaps due to the presence of reliable locking strings or fasteners.
Capes. In these products, you can adjust the width of the special fastener located on the back of the furniture accessory.
In the production of covers not every material can be used. The fabric for sewing the case should be durable and practical, resistant to various mechanical stresses, easy to maintain and operate.
More often in the production of covers is used:
Gabardine. Soft, but dense fabric based on cotton, wool with the addition of synthetic fibers, sometimes silk. Ductile, although very durable material can be gathered into elegant folds. Often the surface of the fabric is matte. Gabardine can be washed, stains are easily removed. Covers of gabardine do not crumple, they can not iron.
Stretch Atlas. The fabric with iridescent shine, thin to the touch, visually resembles satin. Not the most practical choice for frequent use, ideal for ceremonies and receptions.
Jacquard. The main distinguishing feature is a large, three-dimensional pattern. Produced from natural and synthetic yarns. The material is durable, does not deform after washing (water temperature should not exceed 40 ° C).
Spandex. Synthetic material, thin, but dense, perfectly stretches. For many years, does not lose its appearance, does not wipe, does not tarnish, can be washed in a typewriter.
Microfiber. Wear-resistant material, does not fade in the sun, does not lose its attractiveness even after frequent use. It can be subjected to wet cleaning, drying, while the cover will not lose its original shape. The surface of the microfiber has a pearly luster, causes pleasant sensations during tactile contact.
And this is not the whole list of materials manufactured. Covers for chairs from the brand Ikea are also produced from organza, cotton and furniture fabrics, brocade.However, materials of artificial origin remain the most preferred. Capes of those perfectly "envelop" chairs, they are easy to maintain, for many years they do not lose their original appearance.
All Ikea textile products are distinguished by their exquisite simplicity and elegant shapes. It is multifunctional: it decorates the room, acting as a decor, protects furniture from damage and dirt.
How to sew a cover on a chair with your own hands, you can find out by watching the video a little lower.