Lamps for a bath in the steam room: the selection criteria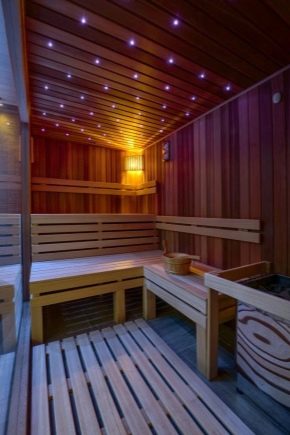 Requirements
There should be no socket or switch in the steam room. They are taken to a waiting room or other room with a lower moisture coefficient and connected at a height of at least 80 cm from the floor.
Choice of housing and lamp power
Suspended lighting should not be used in the steam room - it is better to purchase lamps of the near surface type.
Principles of location
Species
Traditional
LED light
Fiber optics
Sources of light
Incandescent lamps
Fluorescent
LED light
How to choose?
Installation
When conducting light into the steam room, flax cannot be used as a seal of the plafond: it expands under the action of moisture and contributes to condensation in the lamp holder.
Manufacturers
Interesting options