A garland of light bulbs - how to originally decorate a house inside and outside?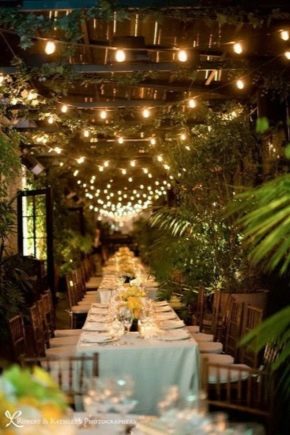 Advantages of decorating lamp festoons
With the help of a garland it is easy to decorate the house and yard, as well as create a pleasant and cozy atmosphere.
Minuses
Species
These products are actively used to decorate the house, both inside and outside.
Types, sizes and power of used lamps
If it is necessary to calculate the voltage of one lamp in a garland, then it is necessary to divide 220 volts by their number in the decoration.On average, one of them consumes no more than 12 volts. Power depending on the size of the garland can vary from 10 to 50 watts. For rooms the optimum value will be 25, and for the street - 35 watts.
Color possibilities
Use cases
As a decoration of the living room
In the children's room
Application for New Year and Christmas
Street ideas
Safety Tips
After using the garland, you need to give it some time to cool before folding it.
Beautiful examples