Lights above the bathroom mirror: selection criteria and design ideas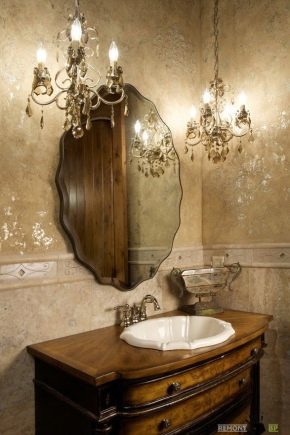 Special features
Most models of luminaires used to illuminate the mirrors are developments on new technologies. They are distinguished by ergonomics, stylish design and functionality.
Sources of light
Some types of such devices can even be used in a bath due to a special silicone coating. Filament for the bathroom is not suitable as fluorescent (energy-saving) counterparts. The first heat, the second emit mercury vapor into the air. Perhaps only halogen types of lamps can be used other than LED.
Advantages and disadvantages
Species
In fact, these are models of built-in ceiling and traditional wall-type on the sconce principle. The line of the used backlight includes spots, often with an adjustment system, as well as spotlight spotlights. These are small lamps. The first is mounted to the wall, the second is built into it. Rarely used for lighting suspension models.
Some lamps have reflectors, others due to the design of the ceiling looking at the ceiling. This directs the light from the mirror, its illumination decreases. In this case, the classic is the version with two lights. The ideal choice is LED type lamps.
How to choose?
Where to place?
The minimum distance between the luminaire, the switch and the hazardous water area is 60 cm. The minimum height from the floor to the device should be 2.2 m. If these are built-in spotlights, they are placed on the ceiling. In some apartments, the ceilings are low, so the luminaire will be located at a height of 2.3 m. If the ceiling is above 2.5 m, it is recommended to fix the appliances on the wall.
How to install?
The best options
The main condition for their admissibility is the remoteness of the space with a sink and a mirror from the bath.