Polycarbonate Greenhouse Sizes: Selection Criteria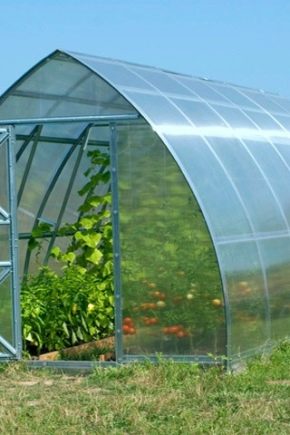 Features and advantages of the material
The minus is fast scratching. However, this does not affect the main function, but the appearance suffers.There are different sizes and thicknesses of polycarbonate. However, the optimal thickness for a greenhouse can be called 6–8 mm. 6 by 2.1 m is a standard size. The length can be 12 meters, but for work such sheets are inconvenient, therefore users prefer six meters.
Sizes: standard and optimal
If you plan to plant a large number of plants, then you need large sizes - 3 by 4, 3x6, 3 by 8, 2, 4 meters, 3x4. They fit under the zucchini, eggplant, strawberries, creeping cucumbers. If the owner farmer grows crops in large volumes, it is better to choose large and wide greenhouses - 6x3, 6 by 12 meters. Basically, all sizes depend on the amount of building material and prices for it.
Parameters: interrelation with constituents
Frame material
Plastic is an easy material to work with. However, its lightness can play a cruel joke in the winter. Such a structure may simply break, and from gusts of wind and completely scatter. When installing it is necessary to take into account the size of the frame and add it to the drawing.
The foundation
Sheet sizes
Greenhouse shape
Taking into account all these nuances, you can proceed to the construction of the drawing and installation of the greenhouse. All work begins with the construction of a drawing. The first is to designate the foundation, namely, to calculate the width, length and height of the structure. Further, all leading from him - the frame, doors, windows, while taking into account all the components.
Installation and installation
Next, you need to start to connect the sheets of polycarbonate with the frame. The most important point is the installation of the first sheet, because from it everything else goes. You need to install it with a release of 5 cm low. For attachment, self-tapping screws with a cap or rubber seal are used.
Successful examples and options