How to build a greenhouse from polycarbonate?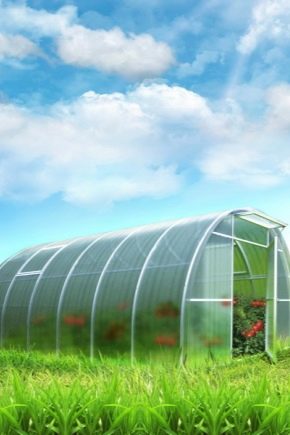 Special features
The most popular are sheets, the thickness of which does not exceed 6 mm. At the same time polycarbonate sheets can boast of impressive light transmission, as well as the ability to tolerate temperature extremes. Internal ribs provide incredible stiffness and strength, as well as the ability to take on virtually any shape.
Advantages and disadvantages
In no case should the ends of polycarbonate sheets be left open, as this will allow both moisture and insects to penetrate inside the greenhouse, which, in turn, may cause the appearance of fungus and other pathogenic bacteria.
It is best to limit the use of soft fabrics, as well as neutral cleaners. In no case can not apply cleansing compositions, which include salts, alkalis or chlorine.
Materials
If you are still planning to build it from such materials, then it is necessary to increase the number of ribs or to develop a special collapsible structure that can be removed in the winter.
If you still want to use just such a frame, then it must be processed using special antiseptics,which will ensure a long existence.
Forms
Such options are considered the best choice for people who own small areas and wish to use them for the construction of this structure.
Dimensions
Required tools
Preparatory work
Careful attention when pouring the foundation must be paid to ensure that it is eventually even, otherwise the greenhouse will be crooked, which greatly increases the risk of mechanical damage.
Foundation
Frame
To remedy the situation, it will be necessary to completely disassemble the structure or part of it, and then assemble it correctly, carefully checking all the nuances and angles.Careful attention should be paid to stiffeners, which should be a single plane.
Roof
It is best to give preference to the arched structure, the distinctive advantage of which is that it evenly distributes the load over the entire polycarbonate greenhouse.
A distinctive feature of a gable or single-pitch roof is the presence of a cone, which is the top of the roof. The strength of the structure as a whole depends on its quality, and it is easy to make such a roof when building a greenhouse on your own.
Structural casing
Interior arrangement
It is best if the beds in the polycarbonate greenhouse go from north to south. Of course, the yield depends not only on this, but also on the correctness of watering and caring for crops.
Thus, the internal arrangement of the greenhouse involves the observance of a huge number of points. Only a well-organized space and the use of quality systems makes it possible to get a good harvest.
Tips
To make it much easier to maintain an optimal indoor temperature, when installing the frame, you can slightly deepen its base. Just half a meter is enough to keep moisture and heat in the air as long as possible.
Beautiful examples