Mini-greenhouses: options and features of the device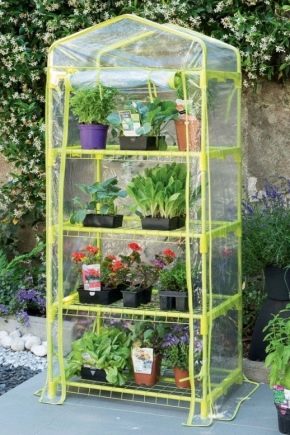 Requirements and location
In a residential area, a mini-greenhouse should find its place depending on the degree of illumination of the selected area. Often home "houses" for seedlings and vegetables are equipped with additional lighting - this allows you to compensate for the lack of natural light and put the greenhouse where it will not interfere.
The difference between greenhouse and greenhouse
Types and features
Many mini-greenhouses that are on sale, have the prefix "eco". However, it is obvious that their device, as well as the quality of the grown vegetables, does not affect in any way.
Portable
Cupboard
Branded cabinets, greenhouses often have wheels. This "furniture" if necessary in the spring and summer period can be transported to the country or moved to the balcony.
Wall
Film
Greenhouses of this type can only be used during the warm season - it is impossible to keep heat under them during frosts. So this option is not for those who are ready to engage in vegetable production year-round.
Automatic
Significantly reduce the cost of an automatic mini-greenhouse can, if you buy a kit to create it in a specialized company and collect it all in his own in an old cabinet, refrigerator or other suitable case.
Decorative
How to make yourself?
Rack with backlight
The folding rack is good because it can be rearranged from one place to another, adjusting the size. It is mainly used in the spring when you need to prepare the seedlings before planting it in the garden, and then dismantled before the start of the next season. You can also build a window rack with struts for the entire height of the window opening.
In order not to affect the window itself, it is possible to make a rack from a ready-made furniture shield suitable for window sill sizes. Side racks with shelves are fastened with screws or nails.
With pipe frame
In order to properly cover the structure with polyethylene, it should be distributed over the entire structure, leaving a small stock of material on the sides, and then attached to the frame with clamps.
Polycarbonate
Similarly, you can make a structure with a single-sided roof or in the form of a small transparent "trunk" with a hinged lid.