Types and stages of construction of greenhouses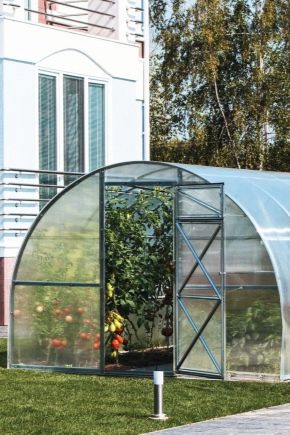 Of course, for these purposes it is necessary to take into account a number of features, which we will discuss in detail in this article.
Special features
Advantages and disadvantages
Kinds
Folding greenhouses began to gain popularity relatively recently. Their advantage is that the light frame is easy to fold and move to another place in the backyard if necessary. At the same time, the greenhouse itself is very ergonomic and has a low cost, which is what merchants' attention deserves.
Another option of greenhouses - a three-row greenhouse. As a rule, such buildings occupy a medium or large area, the beds in them are located in three levels, two passes are located between them.
Many gardeners fell in love with a spherical greenhouse for its unusual appearance and excellent transmission of sunlight.
Specifications
Creating the easiest greenhouse on the summer cottage with your own hands requires certain preparatory work.
Sometimes window frames are used as frames - which are characterized by excellent thermal insulation and relative ease of installation.However, it is necessary to take into account their relative fragility - even with careful care, the service life will hardly exceed five years.
Glass can be safely attributed to the traditionally used materials in the manufacture of greenhouses with their own hands. Glass coatings are durable and have excellent thermal insulation, but remember that glass heats up very quickly and weighs quite a lot. A separate difficulty is the replacement of broken glass.
When choosing pay attention to the manufacturer. Do not forget that the miser pays twice, so it is better not to buy Chinese materials, despite their attractive price. Among the well-established in the market in recent years, we can mention the domestic company Kinplast. This company offers a range of different coatings - from low-cost to premium options.
Preparation of materials
Before purchasing the necessary materials for construction, it is necessary to make a calculation.This will help to prevent further expenses.
Assembly and installation
Solar type is based on the greenhouse effect, which is formed when natural light is entering the greenhouse space. This heating option is used only in summer when the sun is active. In the cold season, to achieve the best result, a mixed type is used - a biological-technological variant.
With a short daylight, no sources of additional lighting can be done. Special lamps will help seedlings get enough light in early spring or late autumn.
Top projects
For cucumbers
Due to the large number of parts necessary climate is difficult to create in one room.Consider the common disadvantages and advantages of each type of greenhouses for a specific purpose - the cultivation of cucumbers.
Arch type with film
Coated with polycarbonate
Gabled with glazed wood frames
With one ramp
Mitleider
In the shape of a pyramid
For tomatoes
For greens
For a better planting of seeds in the soil, you must first dry them in a draft. If you can not plant seeds directly, it is possible to grow seedlings at home, followed by planting it in the ground for 10-14 days.
Decide on the model, taking into account whether there is a willingness to install a stationary greenhouse or it is more logical to choose a collapsible option. Consider all the pros and cons - the stationary is installed once and no longer requires attention,collapsible same structure will have to assemble and disassemble twice a year.