Design bathroom of 3 square meters. m: options without toilet and with him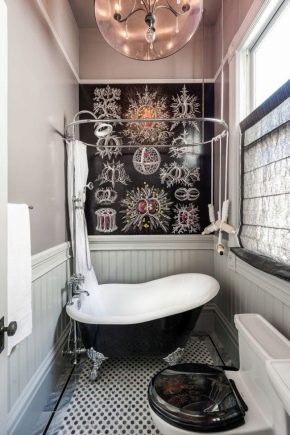 When every inch is dear
Types of planning
Reconstruction - installation, replacement or transfer of engineering networks, sanitary, electrical or other equipment, requiring changes in the technical passport of the apartment. The conversion includes installation of the cabin. Redevelopment - changing the configuration of the apartment, requiring a change in the technical passport. This includes the combination of the bathroom.
Secrets of ergonomics
It is unacceptable to make out a small bathroom in a gloomy palette, contrasting and saturated. White - the most successful color. It is good in itself and can be combined with any shades.
A popular way to finish walls is to paint water-resistant compounds. Experts advise to look at the plastic panels, tiles, artificial stone. On the ceiling a long-lasting stretch film will last. It is possible to paint the ceiling, glue it with fiberglass, to finish it with vinyl siding.
Lighting is an important part of room arrangement, especially with electricity should be handled carefully in rooms with high humidity. Lamps must be removed from the shower, tap.To create a high illumination fit spotlights mounted in the ceiling.
Design Ideas
The surfaces of the room are faced with tiles or plastic panels, the furniture is mainly painted white.
sources of inspiration