Bathroom interior design options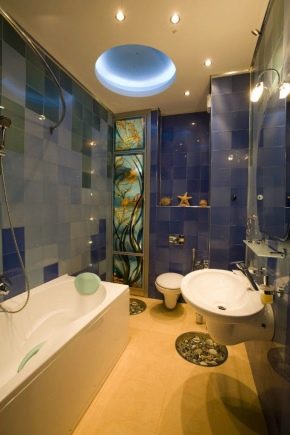 Special features
Style and design
A bathroom with a tile can be arranged in three variations: select separate areas of the tile, lay out part of the walls to a certain height, complete wall decoration.
Color combination
Bathrooms in bright colors, often in beige, are popular. With such colors, it is easy to create a harmonious interior using different shades of the same color.
Mosaic
The advantages of the mosaic is its strength and moisture resistance, the only drawback of this design - the high price of the material.
Mosaic looks original, if you use the principle of the gradient. Smoothly moving color, for example, from rich blue to delicate blue will transform the room.
Decorative plaster and wood
Some use in the design of liquid wallpaper, with which you can also create a variety of types of surfaces. To make liquid wallpapers last longer, before they are applied, the walls are treated with a suitable primer and coated with varnish on top.
How to equip?
The main thing to consider when arranging a small bathroom is to plan the interior so that there are no unnecessary items in the room, only what is really necessary.
With bathroom
A good supplement for rest and relaxation is the Jacuzzi and other options for massage and wellness designs.
With shower
Provided that the capacity for relaxation is extremely necessary, you can choose the option of a shower cabin, in which there is a rather deep bottom below. You can sit there and enjoy the water treatments.
Combined bathroom
Sinks in such rooms are better to choose compact, but in such a way that the splashes do not fly in all directions, and the water does not flow to the floor.
Famous manufacturers and reviews
There are the most popular manufacturers that have already proven themselves in the market of finishing materials from the best side.
When choosing certain models, you should take into account many nuances, these include the communications device, the size of the room. Sometimes the device sewer system limits the choice of models.
Useful stuff
The oblong room will expand if a wide mirror is placed on a long wall. Original will look a mirror, mounted directly into the tile surface.
Tips
Interesting examples