Black bathroom interior: advantages and design options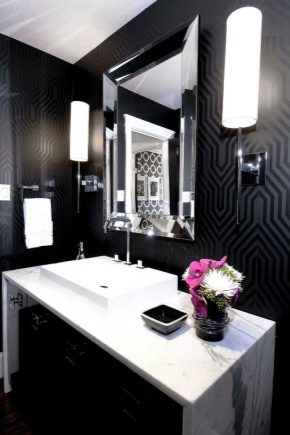 Psychology
Advantages and disadvantages
Combining this color with light shades, you can even visually enlarge small rooms.
In small rooms, it should be used as carefully as possible, otherwise you can visually make the room even smaller.
How to avoid gloom?
Combination with other shades
Red
White
Plumbing
A very popular option is when the inside of the bath is white, and outside it is black.
How to choose a tile?
If you want the design to be not only elegant, but also dynamic, stop choosing a combination of white and black.
Some people think that the black bath looks very gloomy, but it's impossible to say exactly about black and white products. The white inner surface of the bathroom does not affect the psyche depressingly: in it a person will feel calm and peaceful.
Finish
Abstraction, floral motifs, geometric patterns will soften the design of the black room. Beautiful buildings, people, leaves, flowers and so on can be depicted on the walls.
Lighting
The bathroom will look very interesting burning candles. They will create a game of shadows on black surfaces. You can buy quite large candles: place them, for example, on the side of the bath.
Decor examples