Duct fans for exhaust: features of silent models and installation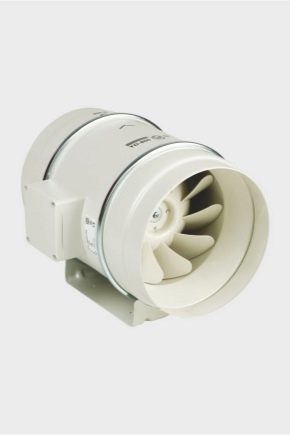 Device and principle of operation
Advantages and disadvantages
Types and specifications
Radial fans do not drive the flow along the axis of the electric motor. When the wheel is spinning, the air captured by the blades is carried to its edge, and then it will be thrown off by the centrifugal effect. Varying the positions of the blades determines the course of the movement of the air flow. If they are oriented backwards, the overall power of the apparatus decreases. However, at the same time noise and current consumption are reduced.
Dimensions
Criterias of choice
The decisive factor in determining the required power is the ventilated area. Here we must also take into account the maximum air flow. Duct fans can even free up bad odors from several rooms at the same time. This is true when the doors are constantly open or when installing arches. But then you want to use devices with a capacity of at least 40 watts.
Installation
It is very important to check the sealing of all joints. Just there, in the smallest seemingly cracks, comes a mass of dirt and grease. It is there that fungi and pathogenic bacteria "like" to settle. Mounting a fine mesh inlet will further reduce the risk of clogging. This will make the fan blades more secure.