Korting hood: variations and recommendations for use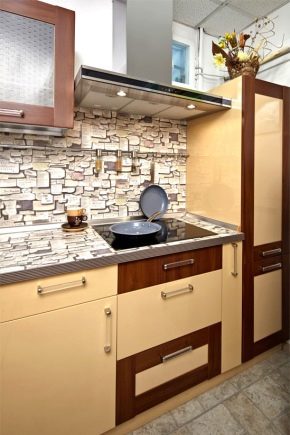 Choosing a decent hood is a rather complicated matter, since a good model should have an appropriate design, convenient functionality and high performance. Only such a product will make life easier. There are many options for modern and original models of equipment that meet all the requirements, but have differences in practical characteristics and designs.
Korting is the best option for those who need a functional and comfortable kitchen hood.
Manufacturer Features
To have a complete understanding of the characteristics of Korting hoods, you need to understand what they are.
Circulating
A good choice for those who need to ensure the purification of air through the ventilation shaft. These models are extremely effective, as they have several carbon filters with their own characteristics. All that is needed for their work is timely replacement or cleaning of equipment.
With air exhaust
In order to connect this model, you must buy a pipe that fits in diameter and length. It must be connected to a common ventilation duct in the room. These hoods are powerful, but have a significant disadvantage. They occupy a lot of space in the room, since the air vent can not always be masked. In any model made by the manufacturer, there is an adjustable speed (from 2 to 4), built-in lights and a reusable filter.
Products have many positive qualities, thanks to which they are popular.
Among the variety of hoods, you can find various dimensions that can be convenient for both stand-alone kitchens and embedding.
The manufacturer produces high-quality models with good packaging and long service life. Also, they are not afraid of external factors, such as temperature fluctuations.
Hoods have optimal power for kitchens with various parameters.
Each product has a mode of automatic ventilation of the room at a specific time.
Products are fairly easy to manage. There are special switches and sensory mechanisms.
Installing hoods will not cause any difficulties if a person first encounters with such work.
Universal design allows the product to fit into any interior space.
The cost of different models may vary, it depends on the external characteristics and features of the work. But since the price range of the manufacturer is quite wide, everyone will be able to choose exactly what he needs at an affordable price.
Among the drawbacks of these hoods can be noted only strong noise at high speeds.
The lineup
To choose the most suitable model, you should familiarize yourself with the model range of products.
The company produces several noteworthy options.
Built-in hood (6740 rb). It has a low cost, good power, air exhaust and air circulation modes. You can control it through the buttons.The design of these models can be light or dark, so the device harmoniously fit into any interior.
Mounted in the base of wall cabinets (99080 gb). In style, the model resembles the built-in, power - 330 cubic meters. It creates little noise, has an affordable price.
Dome (KHC 9636). This model is able to provide better cleaning of the room. There are different prices, so you can choose a device, given the financial possibilities. The design is rather laconic - black, white and metallic shades. Power - 400 cubic meters. A similar device with a capacity of 750 cubic meters is more expensive. You can purchase a hood with a maximum capacity - 930 or 950 cubic meters.
Suspended (6770 x). A great option for those who need a hood with a strict design. The model has a compact form and has a capacity of 750 cubic meters. It is able to effectively clean even a spacious room.
Inclined (9639 RI). Suitable for owners of modern cuisine with a stylish interior. Models with a unique and interesting design have high performance, so buying this device, you can not worry about the fact that it will work poor quality.Power - 950 cubic meters. It has a touch switch.
How to clean?
In order to get rid of fat on the exhaust grill, it is necessary to use special powders without abrasive materials in the composition. Otherwise, the surface of the device may get scratched and lose its perfect appearance. Also on the surface of the hood may be additional relief, which will accumulate fat.
It is important to remember that if the letter F flashes on the display of the device, you need to wash the grease filters.
There are many options for cleaning the hood kitchen or bathroom. If it does not go to pick up a special tool yourself, you can consult with professionals working in a specialized store of household chemicals.
There are some helpful tips.
Stainless steel hood is better to clean using baking soda. It is necessary to dissolve some amount of soda in water and with this solution to walk on a dirty surface.
Ordinary laundry soap can help in getting rid of the extract from the fat. It contains many alkaline elements that break it down.
At home, a good detergent is dishwashing liquid.
You can buy professional tools that are aimed at ridding the surface of the gas stove from various contaminants.
Reviews
In the vast network you can see a lot of positive reviews, in which customers admire the high quality of Korting products. Many report that it was uncomfortable to be in the kitchen before buying a device, as there were a lot of strong smells. After the product was purchased, this problem no longer arose.
There are many options that are suitable for any kitchen. All of them have reasonable prices, different power and different levels of noise. Hoods are installed fairly quickly, without any difficulties. Both pushbutton and touch controls are easy and simple, they can be very quickly figured out. You can switch device speeds, for more convenience, the backlight turns on.
All models are compact, easy to operate and have practical, elegant designs. Models with a dark body are very popular, as they show less dirt and traces of dust.Most buyers like the products of this manufacturer, as they are durable and functional. Many noted that due to the price range, you can save money and buy a decent model for an average price.
Negative reviews are also available, and they relate to strong noise. Most consumers argue that when you turn on the second and higher speeds in the kitchen it is impossible to talk because of the noise of the device. For many, this is a negative point of production.
In the next video you will find a brief review of the Korting KHI 6751 X hood.