Features dome hoods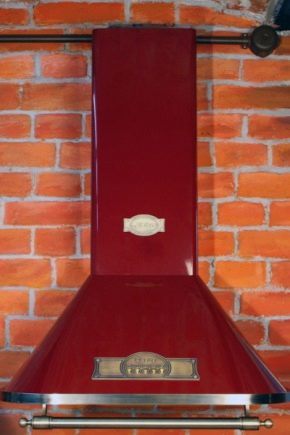 Main characteristics
The design and usability of the hood is largely dependent on the material from which it is made. The most reliable and easy to clean - stainless or galvanized steel. They will not lose their attractive appearance from periodic cleaning, sudden changes in temperature and the effect of time. From other metals use an alloy of aluminum, copper and brass.
If steel gray devices seem boring, and I want to find a brighter and more interesting, then it is better to choose the one that combines several materials.
Kinds
Installation and connection
Advantages and disadvantages
It is easy to install the hood itself: a small skill in using a perforator is enough. It is attached without problems with their own hands, without assistants. But for models with flow-through air cleaning, you will have to install an air duct.
Examples in the interior
Here, on the contrary, the black hood stands out sharply against the background of other objects. The combination of black and red creates a catchy, but stylish interior.