How to calculate the distance from the hood to the plate?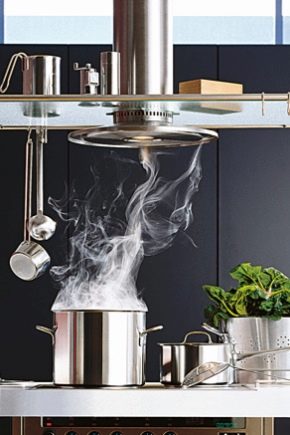 If you decide to get a hood, the important point is to correctly calculate the distance from it to the stove, so that smells are removed as efficiently as possible.
Standards
The distance norm is chosen by the person who will cook, so it may also depend on the height of the owner, the type of kitchen, the height of the ceilings.
How do the dimensions of the equipment?
Hoods embedded in an interior item are installed directly above the gas or electric stove to ensure maximum efficiency. Such models are located inside the kitchen interior object.
What to consider when installing?
Dimensions and characteristics affect the height of the exhaust device above the stove. Low power systems should be installed at a height of at least seventy five centimeters. If the capacity of the air intake exceeds five hundred and fifty cubic meters. m / h, the distance from the cooking surface to the edge of the device should be increased.
Straight hoods
Inclined hoods
If the unit operates autonomously without air exhaust, only access to the power grid will be needed. The distance between the hood and the hob should be more than sixty centimeters, if the stove is gas, and fifty centimeters, if it is an electric stove.
How to measure and install?
As in the process of operation, fat droplets enter the device, which are deposited in the air intake filters and outside, and moisture accumulates inside, it is possible to get an electric shock if the unit was connected incorrectly during installation.