Features and installation of kitchen hoods with a vent to ventilation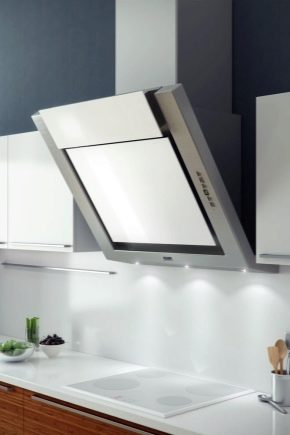 Specifications
Structurally, exhaust hoods with a vent to the ventilation consist of a body, a control panel, a coarse filter - a grease catcher, and an air duct extending into the ventilation duct.
Advantages and disadvantages
Kinds
Power units are divided into household single-engine and powerful twin-engine models. The first are installed in the kitchens of apartments and houses, and the second are used in cafes, restaurants, pizzerias and other catering establishments.
Functionality
Selection criteria
Hoods in which this figure is 70 dB are not recommended for residential use. When buying a design, you must ask the seller to turn on the device and test its operation in different modes. If the noise from the work of the unit will cause irritation or there will be audible tapping or grinding, you should not buy such a product.
Installation
If you listen to these simple recommendations, installing a hood with a vent to ventilation will be successful and will not cause difficulties even for people who do not have such experience.
Operating rules
Hoods with a vent to the ventilation are modern high-tech representatives of ventilation systems. The devices provide an efficient outflow of polluted air, make staying in the kitchen pleasant and comfortable.