Smeg hoods: varieties and their features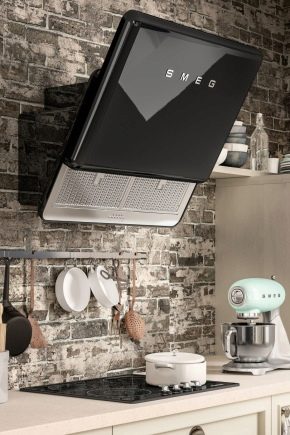 Very often, when customers are looking for the necessary hood for their kitchen, the question arises of choosing the right brand, since there are too many of them on the domestic market. Smeg hoods are a real find for those who want to focus on sophistication and quality. The products of this brand is famous for its inimitable quality and technical capabilities.
Nevertheless, before buying it you should consider all the advantages and disadvantages of this type of product, its features and, of course, read the reviews of experts and customers.
Specifications
Smeg hoods will appeal to real connoisseurs of technology, because they probably will not fail even after many years of operation. The Smeg brand is originally from sunny Italy, but It is also very popular in other countries around the globe, including Russia.
All technical products from the brand has an individual design, which is developed by the real professionals in their field.
The manufacturer provides excellent warranty periods for its high-quality equipment, which can even be increased for an additional fee.
Technique from the brand is not cheap, and in case of breakage will have to spend money. But all its advantages, of course, overlap this small nuance.
Modern hoods from the brand are equipped with a mass of various options and modes for even more comfortable operation of equipment in the home.
Almost all models are very compact and ergonomic, do not take up too much space. In the assortment of the brand you can find both suspended and built-in models.
All hoods from the brand are very quickly and easily cleaned. Smeg hoods are purchased not only for domestic use, but also for various enterprises.
All Smeg technical products manufactured in Italy are considered completely safe. It is certified and meets not only European, but also international quality standards.
Big variety
In the current assortment of the brand you can find a lot of series with hoods, which may appeal to those who are looking for a real exclusive. Next, consider a few of the most unusual and high-quality models.
We recommend to pay special attention to the hood. Smeg KCI19AOE. This model makes almost no noise and is equipped with carbon filters that absorb third-party odors perfectly. And also this hood is equipped with excellent LED lighting and fittings, the management will please even the most fastidious.
No less popular is the embedded model. KSGT56B stainless steel and white glass. It will be perfectly combined with any Provencal style kitchen.
The wall cream extract is very expensive and extraordinary KS59POE. It has excellent technical characteristics and low noise level.
Island models are considered to be no less original, as by their technical characteristics they are in no way inferior to the classical versions.
Price
Prices for hoods from the brand are very different. Small models with minimal power and modern design will cost about 15-20 thousand rubles. Their capacity is about 300-400 cubic meters.
More powerful embedded models of hoods can cost about 75-100 thousand rubles. They will be distinguished by a luxurious design and unique management. This hood will be nice to touch with each subsequent time.
Traditional models of hoods in the range are represented by models of the type of the dome. Perhaps these are the cheapest options that go up to 20 thousand rubles. Such options will work only at three speeds.
In the range of the brand a lot of hoods with panels made of glass and stainless steel, with a capacity of 650 cubic meters. As a rule, they have button control. At a cost, they are about 30-40 thousand rubles.
Reviews
Despite the fact that the extracts from the brand can not be called available on the Internet About them you can find a lot of positive feedback.
Pleases a wide range of products, including the most modern models.
The manufacturer probably knows what a modern customer needs, annually producing improved models of hoods.
Technical products from the brand serve for many years without a hint of any breakage and malfunction. It is easy to clean the equipment, almost silent.
In general, it can be said that the products from the Italian brand are indeed worthy of attention, because not only satisfied customers, but also true professionals of the business leave positive reviews about it. Prices, of course, high, but the true European quality speaks for itself.
About home appliances Smeg - in the next video