Choosing a hood that is built into the countertop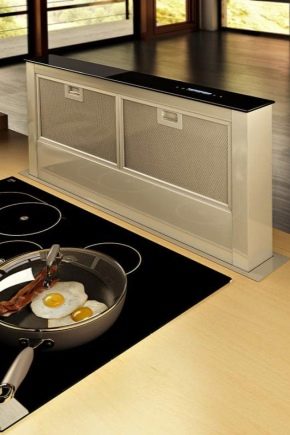 It is not the first year that not ordinary hoods built above the stove are gaining popularity, but those that are installed directly on the tabletop. Modern hoods of the new and improved type are considered more versatile and comfortable in home use. Before choosing this type of equipment, you should learn all its advantages, disadvantages, principle of operation, features and some other important points. In addition, it is very important to familiarize yourself with the criteria for choosing such a technique.
What is it like?
Table hood, as a rule, is embedded directly in a special table or in a kitchen cabinet. We can say that the equipment is located next to the stove, to the side of it, and sometimes even behind it, so only ventilation grilles will be visible from the outside.Most models of built-in hoods from different brands are non-portable, static, but there are more expensive options - mobile. There are even hoods that can rise a little, for example, to the height of a griddle or even a saucepan. This type of technology is considered innovative., because in many criteria and technical characteristics it exceeds the classical models of suspended hoods.
Today, many manufacturers offer only 2 types of such equipment - built in the closet and built in the table. Embedded in the closet models are cheaper because they are usually not visible - so the manufacturer saves on an unusual and beautiful decoration of equipment.
How does it work?
The principle of operation of this hood is almost the same as usual. However, it is believed that the built-in models absorb more pollution, odors and fumes from kitchen appliances. Moreover, experts have established that such extracts do not allow flavors of dishes to mix with each other, which is an undoubted advantage. The device of the new type works pointwise, it can catch even the most minimal evaporation, which the ordinary hood simply will not reach.
For whom?
Built-in kitchen hood is great for modern modernized kitchens, which simply need such a technique. This hood is very easy to use, control is simple, highly sensitive, absolutely everything will be dealt with. Hoods of the new type will be able to please even the most fastidious customers who are looking for something special for themselves. The question of whether one such device is sufficient in a large kitchen or whether it will be necessary to install a classic model is not easy to answer. It all depends on the design of the room, as well as how often it will cook food.
As a rule, ordinary ventilation in the kitchen can be responsible for its general cleaning. Embedded models are suitable only for local exposure and purification. The great advantage is that the hood panel can be located not only on one side of the plate, but from several at once. Models of built-in hoods are also suitable for island kitchens, for those that do not have upper cabinets, as well as for kitchens whose interior is made in the style of minimalism or futurism.
How to pick up?
Today, in many hardware stores you can find several options for embedded products for the kitchen. The most common options are with air exhaust and circulation mode. Hoods with exhaust are good because they automatically update the air by connecting to the ventilation of an apartment or house. Such extracts have a lot of advantages, but when it comes to apartment buildings, it is worth remembering that the most unpleasant odors from neighbors can get into the mine.
Circulating the same options for hoods are simpler and more convenient, since they clean the air with the help of special filters and do not connect to the common shaft. Special attention should be paid to exhaust hoods with carbon filters, which do not require the installation of a special pipe for exhausting air. They perfectly purify the air, eliminating the most unpleasant odors from the outside. Moreover, coal is considered environmentally safe and clean for humans and the environment.
Choose the right option for the hood should be in accordance with their own preferences, financial capabilities and, of course, taking into account the parameters of the kitchen. If you are not sure that you can choose the hood yourself, it is best to use the advice of specialists in the respective stores.
It should be noted that some technical products may not be able to be built into the kitchen of the old type or sample.
When selecting a hood for the house should pay attention to the following criteria:
productivity of equipment and its operating modes (they should be as much as possible for the most comfortable use of equipment);
dimensions and availability of filters for air purification;
the level of noise emitted (it is best to acquire quiet models, as a rule, they not only do not distract households, but also work better);
the presence of a timer, as well as a control method (models with touch controls are also in demand, but push-button models are also available);
It is equally important to pay attention to the availability of installation, since many models cannot be built in by themselves, and this is an additional waste.
When purchasing a hood with carbon filters, it is very important to check the presence of special indicators on it, which indicate that it is time to change the filters. It is best to select the hood directly in the appropriate licensed store. Internet purchases, of course, are good, but it is best to inspect live appliances.
Issue price
Immediately I would like to note that it is hardly possible to save on such a modern technology, and this does not make sense. In order for the hood to work for many years, it will have to be invested in and properly looked after, in order to avoid any breakdowns in the future. On average, hoods of this type from different manufacturers cost from 6 to 12 thousand rubles. There are more expensive models from proven brands that can cost 20 thousand rubles at all.
Today on the Internet you can find a lot of positive reviews about this kind of technology. Satisfied customers note that their new hoods are more powerful and work much better than usual.
In the next video, you will find the installation of Franke Mythos Hob Extractor, built into the tabletop.