Hood Zigmund Shtain: a review of models and their features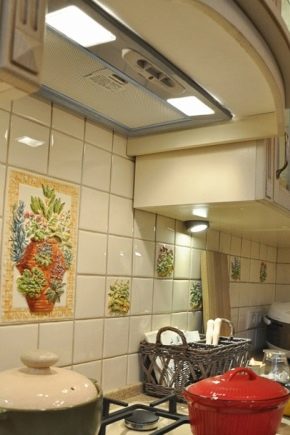 In order to be comfortable in the kitchen, it is necessary to clean the air after each cooking. Also, the air in which there are many harmful trace elements and unpleasant odors can harm health. That is why many are trying to find the most effective hood that copes well with its task.
Zigmund Shtain is a popular German manufacturer that offers many options for high-quality units at an affordable price. All models meet the requirements of strict customers and are powerful, functional and attractive in appearance.
Features, advantages and disadvantages
Hoods manufactured by this manufacturerhave a large number of positive qualities due to which they became popular and in demand. The main advantage is the variety of the range. Here you can purchase a wall, corner or island unit of any size and shape. Most often acquire T-shaped, dome and cylindrical devices, as well as embedded models.
Engines that are built into the units operate without much noise. Most of the engines are mounted in the body of equipment so that the model is easier to install.
There are other features of the manufacturer.
For those who need to ensure the circulation of air in spacious rooms that require thorough cleaning throughout the day, there are models with the strongest capacity - 1000 cubic meters.
Most devices are compact. Even the smallest and inconspicuous extractor manufacturer is able to clean the air from various contaminants and unpleasant smell quickly and efficiently.
The design meets modern requirements and harmoniously fits into the interior of the room, adding to it grace and style.
Devices can last extremely long if they are properly cared for.
Care for the case is very simple. Most models have a protective layer, due to which a person can not leave prints on it.
Models have convenient features that greatly facilitate operation.
Even if you choose the hood with the smallest power, it guarantees a gentle, effective and silent air cleaning. The equipment of this manufacturer is universal. Zigmund Shtain is ideal for those who are not afraid of modern technology and know what is needed for the kitchen.
The disadvantages of this product is small. Basically it is the impossibility of installing near the cooking surfaces and the lack of prevalence in the shops of equipment. In many cases, such hoods can be bought only in online stores.
The lineup
There are many options for units, so everyone can choose something most suitable for any kitchen. Consider several options.
Fitted inside wall cabinets. These models can be built in either fully or partially. The second variant of the unit has a slider panel, on which there is a fat-absorbing filter.
Embedded models Equipped with an anti-return valve that prevents contaminated air from entering the room. They have an interesting design and are functional and comfortable.
Fully built models occupy quite a lot of space in the closet. They have enough power to process the air in the spacious kitchen or studio room.
Dome models are a classic option for any interiors. The dome does not mask at all, so you should purchase a universal model, which will not change when the design of the room is updated.
Original design of models
Zigmund Shtain offers a large selection of different designs. Among them are both classic and more original. You can purchase a steel model, a standard black and white unit, an elegant device with gold-plated handles on the front panel, and more. Wall hoods can be decorated with glass elements.
Inclined type units are strikingly different in both design and performance. Among them you can see models that have classic shades, as well as nice beige tones.Such designs look extremely elegant and will become a real decoration for the kitchen.
Island models have gained great popularity due to the cylindrical type. Round hood looks quite original. It is also convenient because it has 5 speeds, a timer, an anti-return valve and an intensive mode.
Island types of models also have stylish design solutions. Their touch screens are made of black glass, which looks incredibly impressive.
How to choose?
First you need to decide on the width of the hood. It is necessary to choose the unit taking into account the size of kitchen furniture. There are a large number of options, so everyone can choose something suitable for themselves. Most often acquire models with a width of 50, 60 and 90 cm.
Next, pay attention to the color, type and materials. Mainly for the manufacture of extracts used steel and glass. In some cases, these materials may be combined. As for color, the hoods are black, white, beige or multi-colored. The metal has a steel color or coated with colored enamel. The most popular are black, white and beige devices.
Manufacturers produce hoods in different styles - retro, country, modern, modern. It is better to choose a modern one, as it will suit any interior. Before choosing a type, you should read the reviews and instructions. On this basis, it is necessary to acquire something that will be easier to manage.
You need to decide on the type of connection and installation. Most often acquire devices that are connected to the kitchen hood through the outlet in the ventilation pipe. It guarantees maximum disposal of unpleasant odors and smoke. Ventilation through a carbon filter will provide air purification and requires constant purchase and replacement of the filter. That is why the conclusion in the ventilation is the best option for those who wish to return to this issue less often. Before you connect and install the hood, you should consult with a professional in order to avoid any problems and repeated repairs.
It is worth paying attention to the price. In the range of the manufacturer there are many not too expensive models, as well as models of the premium segment. Price may vary depending on additional features, the availability of any modes, as well as power.
If you need to purchase a unit with the function of ventilation, timer, remote control and touch buttons, you should prepare for a high price. Inexpensive models are able to efficiently and effectively perform their functions at an affordable price.
Reviews
On the Internet you can see a lot of reviews about kitchen hoods from Zigmund Shtain. Almost all reviews are positive. Buyers admire the quality and original design of products. Many models have a timer and bright, touch-sensitive displays that make it extremely easy to control the unit. Due to the brightness of the display, the device is convenient to operate even in the evening. Also, it has a fairly bright backlight, which allows you to save vision. The working area is fully illuminated, so cooking is a safe and enjoyable experience.
Hoods have several modes of operation, the speeds are switched at a distance with a special remote control. Models are as comfortable as possible. Power devices enough for a complete cleaning of the room. Thanks to a large assortment, you can buy something that will become not only an indispensable assistant, but also an interesting decoration and addition to the interior.A variety of shades and colors allows you to choose the best option of the device that will not spoil the overall design of the kitchen.
Unpleasant odors and dust quickly evaporate, the units efficiently and quickly perform their task. Easy to adjust, turn on and off. Able to work for many years with proper care. Without any problems, they are cleaned of fat with the help of special products, laundry soap or dishwashing detergent. Do not allow contaminated air to flow back into the room.
Among the negative feedback is worth noting the difficulties in the purchase. Often the hoods of this company are quickly sold out, which contributes to their lack in regular stores. Consumers have to order goods via the Internet, which is difficult for many. Also, at high speeds, the exhaust produces a decent noise, which can interfere with the work or rest of the household.
In the next video you will find a brief overview of the hood Zigmund & Shtain K 246.61.